2019 Mack Mesa Fat Tire Jamboree Registration
Who: Backcountry Pilots and Aviation Enthusiasts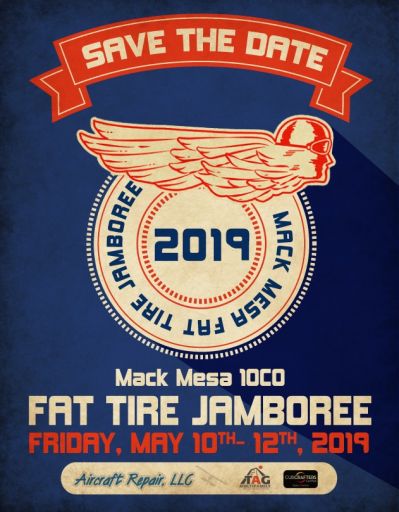 Where: Mack Mesa Airport 10CO
When: May 10th thru May 12th 2019
What / Activities:
Aviation Activities
Pilot Skills Contest – (two weight classes) Spot Landing, Short Field Landing, Obstacle Landing. (Saturday)
Hubbard / Gateway Pilot Lunch (Saturday)
Poker Run (Saturday)
Short Field Take Off (Saturday)
Aviation Trivia
On Site Activities
Live Band Saturday Night – TR (Morgan Krous)
Special Guest Speaker (aviation safety)  - TR
Cannon Ball Launch - LK
Twin Otter/Porter Static Display/Miller Stearman – LK
High Line Lake State Park Lounging - LK
Corn Hole & Tight Rope Walk - ER
Skill Contest Awards – ER
Citation Fly-by – TR
Meal Planning
Friday Night Dinner - EAA
Saturday Breakfast  - EAA
Saturday Lunch Mack  - EAA
Saturday Dinner  - EAA
Sunday Breakfast Grab and Go!  - EAA
Facilities: Fuel, Bathrooms and Water AVAILABLE

Contact Info:
Manager: LADD KLINGLESMITH 970-260-0707
Events Coordinator : TRAVIS REESE 970-261-0525

Video: http://www.vimeo.com/16653977
Please register using the form below in advance of your arrival. Information is used to ensure enough food is available for the meals.
Liability Waiver:
Mack Mesa Airstrip
(10CO) is available for recreational purposes and at no charge. Before landing or departing, pilots must have completed the liability release below.
Important:
This is an unmaintained airstrip and actual conditions may vary from the information given on this website.
It is the pilots responsibility to verify the accuracy of this information and the condition of the airstrip prior to arrival.
Contact the Airport Manager (Ladd) at 970-260-0707 with questions and current conditions.
Liability Release
Form
I (the pilot whose information is provided in this form submission) affirm that the statements in the Liability Release are true, are made in good faith, and no information has been withheld or suppressed.
IN CONSIDERATION OF my flight(s), I, the undersigned, agree, intending to be legally bound hereby, that as the pilot of my flight(s) and the landowners on which my flight(s) will takeoff and/or land (collectively, with their respective successors, heirs, assigns and insurance companies, all of the foregoing are hereinafter referred to as the "Released Parties"), shall not be liable for my death or injury to my person, or for any loss for damage to my property, caused in any manner whatsoever, whether attributable to the negligence, intentional act or omission of one or more of the aforesaid Released Parties, or for any other reason, occurring during the time that I am in, entering or alighting from an aircraft piloted by (pilot provided in form submission). I do hereby, for myself and my heirs and assigns, waive any right of action against the Released Parties from any and all causes or claims that I may have against one or more of the Released Parties from the beginning of time until these presents. I further agree not to sue on any such cause or claim. I fully acknowledge and understand that there are dangers and risks associated with my flight(s) which might result in my injury or death, and I voluntarily desire to participate in, and assume the risks of, my flight(s). I the undersigned, accept liability for all accident/incident-related damages and all liability not covered by the attached insurance policy for flight operations at the property owned by:
Named Parties:  7CO, LLC (owner), Ladd Klinglesmith (Manager/Operator) Fly Colorado, L.L.C. (website)             
Airport: Mack Mesa Airport (10CO)
Address: 1048 R Road
City: Mack               State: Colorado        Zip Code: 81525

*Revokable at any time by property owner
Registration Form