Steamboat  Springs, Colorado's most western mountain town, has a down-to-earth authenticity.  Never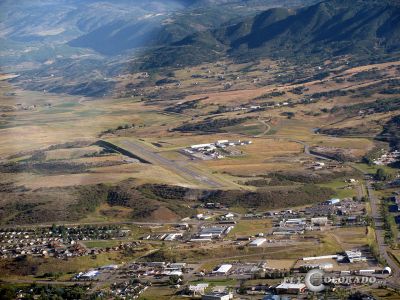 far from its ranching roots, Steamboat, elevation 6700 feet, lies in the Yampa Valley surrounded by the 12,000 foot Flat Tops, Sleeping Giant mountain and the solitary summit of Hawks Peak.  The historic downtown with century-old red-brick buildings is the hub for shopping, dining and festivals for families and visitors alike. The main drag, Lincoln Avenue, is still wide enough to accommodate a cattle drive, once a regular occurrence a century ago.
 The ranching traditions are alive and visible as cattle graze the open pastures around town. Steamboat's retail giant, the 100-year old F.M. Light & Sons,  sells 6,000 cowboy hats a year, clearly a nod to its western heritage.  Join the locals at the Pro Rodeo Friday and Saturday evening and watch the bull riders and rope handlers compete.   Go early and enjoy a barbequed rib dinner on site.
The Ute Indians were the first inhabitants to Steamboat Springs adopting the area as their summer home. With fish in the rivers, abundant wild game and a mild climate, it was paradise.  First the Ute, then the white settlers, enjoyed soaking in the thermal springs clustered near the Yampa River. Today there are multiple hot springs around town where you can enjoy the soothing waters.

Late June and July marks the start of tubing season on the Yampa.  You can float downriver putting in at Rotary Park and taking out roughly two hours later at Bud Werner Memorial Library.  Other outdoor pursuits include road riding, lift-assisted mountain biking, fly-fishing, hiking or trail running on Howelson Hill and kayaking.
Skiing became an integral part of Steamboat's framework around the turn of the century. In 1913, the well-known Norwegian ski jumper, Carl Howelson taught locals how to soar through the air and began a tradition of winter sports.  Known as Ski Town, USA, Steamboat has produced more Olympic athletes (69 and counting) than any other in North America. env
Steamboat's come-as-you-are community combined with the dry clean air environment invigorates visitors year round.
FAA Identifier: SBS
Lat/Long:  40-30-58.5000N / 106-51-58.7000W
40-30.975000N / 106-51.978333W
40.5162500 / -106.8663056
Elevation:  6882 ft
Time zone: UTC -6 (UTC -7 during Standard Time)
Information Provided by the Airport Manager:

General Airport Info:

APT Website URL: www.steamboatsprings.net - Use Airnav.com for fuel prices

Hours Attended: 7:00 AM to 5:00 PM

Dist to Town: 1.5 miles

Snow Removal Hours: 6:00 AM until complete & as required

Windsock Locale:  West side mid-field

Transient Acft Parking Locale: Large aircraft in white box; light aircraft any available tie-down

Tie-downs provided: Yes

APT Webcam URL: N/A

FBO NAME: Steamboat Springs FBO

Contact # (970) 879-1204

FBO Website URL: www.steamboatsprings.net - Use AirNav.com for Fuel Prices

FUEL:

Fuel Hours: 7:00 AM to 5:00 PM; After hours by call-out + $75 fee

Service Type: FS

Payment: Credit Card

Fuel TypeAvail: 100LL

Discount: Ramp/Overnight Parking Fee payment = $0.25/gallon discount

Additional:

Courtesy Car: Yes

Keys Located: In FBO - registration required.

Car Hours Avail: 7:00 AM - 5:00 PM - No overnight

WiFi Avail: Yes

Password: None

Computer Avail: Yes - Computer room in FBO

FBO Restroom: Yes

Overnight Parking Fee: $10/$15/$30 - aircraft type dependent

Facility/Lndg Fee: $5/$12/$25 - aircraft type dependent

Cell Phone Reception at airfield: Yes - All major carriers

Landline / Courtesy Phone Avail: Yes

Preferred calm wind RWY: Runway 32

Noise Abatement procedures: Common sense

Overnight/Long Term Rental Car Avail: Check Point Auto = (970) 875-0700;  \
Steamboat Motors = (970) 879-7424

Local Taxi (car shuttle): Alpine Taxi = (970) 879-8294,
Option "0" to speak to live person

Runway 14/32
Dimensions: 4452 x 100 ft.
http://www.airnav.com/airport/KSBS
Live WebCam 
Informational purposes only - Not for Flight Planning.
Information from the Airport Manager:
Camping Allowed on-field: No 

Restaurant on Field: No

Within Walking distance: No

Nearby Breakfast Recommendations: Creekside, Freshies, Johnny B. Good's, The Shack, Winona's

Nearby Lunch/Dinner Recomendations: Big House Burgers, Smoke House, Tap House

Economy Lodging Recommendations: Alpiner Lodge, Bristol Hotel, Nordic Lodge

Mid-Range Lodging Recommendations: Hampton Inn, Holiday Inn, Rabbit Ears Motel

Resort / Destination Lodging: Sheraton, Steamboat Grand, Steamboat Resort Association
Additional Information & Ideas:
Year Round activities:
Strawberry Park Hot Springs: The hot springs pools are the perfect way to unwind the afternoon following a day of outdoor activities. Although the community pools are fine, the locals know the best place to soak is the Strawberry Park Hot Springs. This rustic resort offers natural pools built with a unique stone masonry design. For only $10 enjoy an off-the-beaten-path experience
Summer Activities:
   -Kayak, raft, and tube the Yampa river
   -Wild West Balloon Adventures (located behind the Village at Steamboat), ☎ (970) 879-7219, A Hot Air Balloon ride over Steamboat Springs
   -Romick Rodeo, 501 Howelsen Parkway.
   -The Howler Steamboat Springs Alpine Slide, 645 Howelsen Parkway (turn off Lincoln Ave in downtown Steamboat on 5th street to cross the Yampa river. Turn right after the river and railroad tracks on Howelsen Parkway. Turn Left at the stop sign.), ☎ 970-819-8010, You take a chairlift to the top of Howleson Hill and then using a sled you go down 2400 feet of winding curves.
   -Flyfishing on the Yampa River and Elk river
   -Camping in the Zirkels Wilderness
   -Day time rides up the ski mountain ski gondola
   -Zephyr Helicopter Company, ☎ 970.846.4677, Helicopter Rides over the area that surronds Steamboat Spings  edit
   -Rock climbing
   -Swimming in the Steamboat Hot Springs
Hiking  (Here are just a few)

Fish Creek Falls, (Located approximately 5 miles from Steamboat Springs.  Fish Creek Falls is a beautiful hike with a minimal elevation gain, making it perfect for all levels of hikers. Located about four miles from town, this trail offers two scenic waterfalls considered to be some of the most beautiful in Colorado. The trail to the first waterfall is an easily accessible quarter-mile hike in. For the more enthusiastic hiker, the second waterfall sits just a short three-mile additional hike away.
Mt. Werner,
Buffalo Pass
Rabbit Ears pass
Summer Events:
Steamboat Springs Pro Rodeo Series
Hot Air Balloon Festival
Steamboat Running Series
Steamboat Springs Soccer Tournament
Steamboat Marathon and Triathlon
Strings in the Mountains Regular classical performances in the summer made by touring (as well as local) musicians.
Triple Crown Sports Tournaments
USA Pro Cycling Challenge - the largest Steamboat bike race
Winter Activities:
Downhill Skiing:
Climbing: Ice Climb Fish Creek Falls
Dog Sledding
Sleigh Rides
Gondola Square has an adventure zone with Slingshot Bungee Jumping Trampoline
Concerts and Entertainment
Cross Country Skiing
Fishing
Helicopter Tours
Horseback riding
Hot Air Balloon tours
Hot Springs
Mountain Tours
Photo Excursions
Scenic Gondola rides
Snowmobile Tours
Snowshoeing
Spa
Tubing at Howelsen Hill
Indoor Tennis Center.
Winter Events
Coureur Des Bois

Steamboat Winter Carnival The oldest winter carnival in the United States west of the Mississippi river.

Winter Concert Series