La Garita Creek Ranch - 5CO6
Join us at the Annual La Garita Fly-In June 2nd -4th, 2017. Important Note: La Garita has a new FAA identifier of 5CO6 effective April 30th, 2015. This is the former identifier of Meyers Ranch in Aspen Park, CO. Ensure your GPS NAV database has the latest data upload if using the direct-to function.
UPCOMING FLY-IN - Friday June 2nd to June 4th, 2017.
Welcome to La Garita Creek Ranch - Click through the tabs above to learn more.
La Garita Creek Ranch is located at 8100 feet in southern foothills of Colorado's San Juan Mountains bordered by the Rio Grande National Forest. Originally built in 1974 with the intention of becoming a resort for hot air ballooning, it operated as a western guest ranch until mid-2000 when the previous owner sold it at auction. At its peak, it accommodated 32 guests in a 14-room lodge and offered tennis courts, hot tub, sauna, pool, and game rooms. The ranch also has numerous cabins nestled around cottonwood trees along the creek.
Upon landing at the airstrip, there are scenic views offering some of the countries' highest and largest mountain valley, the San Luis Valley. The Sangre de Cristo Mountains dominates the eastern horizon, which hosts stunning sunrises. With BLM and Rio Grande National Forest bordering the property, excellent recreational opportunities are plentiful and nearby. From the base of the ranch, you have access to excellent fishing, hiking, rock climbing, horseback trails, and lots more! The ranch recently improved the 3400' long dirt / clump grass runway. While no longer operated as a guest ranch, the property still has the log cabin style main lodge, along with four large cabins/duplexes which are occasionally rented out for events. The La Garita creek gently meanders through the property supplying a large pond with a mile of trout fishing access along the stream. The area surrounding La Garita Creek Ranch also provides a rich history with both the Ute and the Anasazi Indian tribes using this ground for summer camps (hunting blinds and pictographs are evident) as well as the early 19th century explorer, John Fremont.
The re-opening of La Garita Creek Ranch was made possible by the generous agreement of the current landowner and the current leaseholder of the property. A great deal of time and financial investment has been given to the property in order to re-open it to the general aviation community. Important to note:   the ranch and facilities are no longer being operated for profit and use is allowed only during fly-ins or by permission/request. Camping is permitted on the airfield and cabins are available for rent for a minimal fee. Completion of the Liability Waiver form and a safety briefing is required before landing at La Garita Creek Ranch.
Click through the tabs above to view the various recreational, lodging, and food options while staying at La Garita Creek Ranch.
Click the play button on your left or follow this link to view a video of La Garita Creek Airport and the surrounding terrain.
La Garita Creek Airfield Information:
Description:
This is a challenging high elevation airport located at the base of the La Garita Mountains. The runway is located in a mountain canyon within the Rio Grande National Forest
. Don't let the length fool you, at the mouth of the canyon, winds can be challenging and downdrafts are present. Tailwind departures and landings may be encountered.

Prior mountain piloting skills are a must, this is NOT the place to learn!
Conditions are subject to change without notice.
Airport ID: 5CO6 (do not confuse with Meyer Ranch)
Ownership: Privately Owned - Prior Permission and Waiver required before landing
Airport Manager: Mike Spearman
Airport Manager Contact # 719-580-2486

Latitude:  37° 48' 41.59"N    (37° 48.69' N)
Longitude: 106°18'54.93"W   (106° 18.91'W)
Airfield Elevation: ~8050' MSL (estimated)
CTAF: 122.9 (shared with nearby Del Norte Airport)
Attendance: Unattended
Sectional Chart: Within Denver Sectional but not charted.
Time zone: UTC -6 (UTC -7 during Standard Time)
Nearest Town: La Garita
Nearest Airport with Fuel: Monte Vista (KMVI)
NRST ARTCC & FSS: 128.375(ALAMOSA RCAG) / DENVER FSS122.15
Additional Remarks:
-Avoid low overflight of horses & ranch directly East
-Wildlife on and in vicinity of airfield
-Unlimited and uncontrolled vehicle access for ranch and lodging access
-Mountainous terrain surrounds airport in all directions
-Runway soft when wet, do not land after heavy rains.

-Perform density altitude calculations before takeoff and landing and adjust departure times accordingly.
-The airport ID (5CO6) was previously used for Meyers Ranch in Aspen Park, CO. If using the direct-to function on your GPS, make sure the nav database is up to date.
La Garita Creek Runway Information:
Description: The runway is comprised of dirt and clump grass. Cattle tailings and small rocks are also present on the runway. The 2600' portion that extends from the ranch entrance road to the western end has been improved in recent years and is the smoothest and most level portion of the runway reccommended for tricycle gear or small tire aircraft. The Eastern 800' section of runway is uneven and has clump grass. Caution for deep ditches on both sides of the runway.
RWY Heading: 09/27
Full RWY Length: 3400'
Improved Runway: 2600' (From Displaced THR/Road to West end)
Runway Low Point: At ranch entrance road near displaced threshold
Markings: White rocks mark runway ends and displaced threshold
Obstructions: A gradually rising 15-20 ft. hill exists on the West end of the runway. Caution for vehicles on the entrance road.
Nearby Personal Weather Stations in Center CO & South Fork, CO
** Not representative of actual conditions **
La Garita Creek Airstrip Disclaimer:
La Garita Creek Ranch
Airstrip
is available for recreational purposes and at no charge. Before landing or departing, pilots must have completed the liability release below.
Important:
This is an unmaintained airstrip and actual conditions may vary from the information given on this website.
It is the pilots responisibility to verify the accuracy of this information and the condition of the airstrip prior to arrival.
Contact the Ranch Manager (Mike) at (719)580-2486 with questions and current conditions.
Liability Release
Form
I (the pilot whose information is provided in this form submission) affirm that the statements in the Liability Release are true, are made in good faith, and no information has been withheld or suppressed.
IN CONSIDERATION OF my flight(s), I, the undersigned, agree, intending to be legally bound hereby, that as the pilot of my flight(s) and the landowners on which my flight(s) will takeoff and/or land (collectively, with their respective successors, heirs, assigns and insurance companies, all of the foregoing are hereinafter referred to as the "Released Parties"), shall not be liable for my death or injury to my person, or for any loss for damage to my property, caused in any manner whatsoever, whether attributable to the negligence, intentional act or omission of one or more of the aforesaid Released Parties, or for any other reason, occurring during the time that I am in, entering or alighting from an aircraft piloted by (pilot provided in form submission). I do hereby, for myself and my heirs and assigns, waive any right of action against the Released Parties from any and all causes or claims that I may have against one or more of the Released Parties from the beginning of time until these presents. I further agree not to sue on any such cause or claim. I fully acknowledge and understand that there are dangers and risks associated with my flight(s) which might result in my injury or death, and I voluntarily desire to participate in, and assume the risks of, my flight(s). I the undersigned, accept liability for all accident/incident-related damages and all liability not covered by the attached insurance policy for flight operations at the property owned by:
Named Parties: Wagon Tracks, L.L.C. (owner), La Garita Creek Ranch, L.L.C. (operator), Fly Colorado, L.L.C. (website)             
Airport: La Garita Creek Ranch (No I.D.)

Address: 38145 County Road East-39
City: Del Norte               State: Colorado        Zip Code: 81132

*Revokable at any time by property owner
Nearby Recreation, Places to see, Food:
general store, restaurant, campground, and auto fuel. A courtesy van is
available at the Ranch that can be used for driving to and from the
Trading Post. (Please leave $5-10 in the tip jar to cover fuel & mx
expenses on the van)
History of La Garita townsite:
U.S. Forest Service Info on nearby recreation
U.S. Forest Service Recreation Brochure:
Article #1 on Pentiente Canyon
Article #2 on Penitente Canyon (from Cozine.com)
Article #3 on Penitente Canyon (from Sangres.com)
Article #4 on Penitente Canyon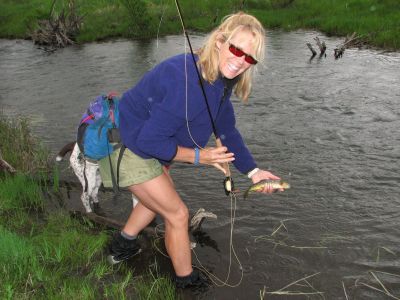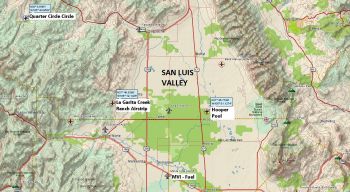 Looking for daytrip flights to nearby airstrips while based out of La Garita Creek
Ranch?  (Click on map above to expand)
-Hooper Pool: Natural Hot Spring Pool, Serves Lunch and Dinner
Fishing Report: June 2013:
This stream is best early in the year due to water flow.  I normally count it as one
of my MAY streams as it dries up to a trickle by mid summer usually.  This year
we're behind and it is perfect right now (June).  It is a beautiful desert trout
stream flowing in the middle of yucca and cactus country.  Cottonwoods and
willows line it's banks.  It is a "hand-to-hand-combat" type fishing.  It is tight
and can be frustrating for beginners. The fish are primarily self producing German
Browns.  I have caught brookies and rainbows in years past, but it seems that's
a rarity anymore.  The fish are aggressive and not overly selective.  Spinning gear
will work, but I only fish it with a fly rod. I use a short (6'6") 3 wt. rod and dry
flies.  Any fly presented well will work.  I usually use a #16 Royal Wulff or
Elk Hair Caddis. 
La Garita Creek Ranch welcomes overnight guests. There are a few different options available:
Tent Camping for Fly-in guests: $20.00 per night
Cabin Rentals:  (Cabin Name / Nightly Rate)
Prefer a bed and hot shower? All cabins are "ranch style /rustic" but have modern amenties such as full bathrooms, microwaves, small refrigerators, and electric heat. Select units also have fireplaces and wood stoves. A newer mattress and fresh top cover is provided for the bed, but bring your own sleeping bag or linens.
*Note: FlyColorado.Org only provides the information and form submission tools for the lodging. The LGCR ranch manager will reply to your request by e-mail or phone to confirm lodging and arrange for payment.
Small Duplex Cabins (for one or two people)
-Chipita - 2 Queen beds,  $ 85 for two people, $ 30 per person above 2 (fireplace)
-Ouray - 1 Queen bed,      $ 85 (fireplace)
-Wrangler - 1 Queen,         $ 80 (close to runway and main lodge)
-Buckaroo - 1 King            $ 90 (close to runway and main lodge)
Large Multi-Room cabins w/ shared living space: (Rent the whole cabin for large groups)

Blue Sky and Bonanza are different levels within a two story cabin each with private living space, decks, and bathrooms.
-Blue Sky (upper), One Queen and 2 bunk beds, $ 85 for 2 people, $30 / person, above 2 people
-Bonanza (lower),    One King and one Twin,  $90, $ 30 per person over 2
The Cliff Dwelling access has shared living space with woodstove, but private access to all rooms. Each room has it's own private bathroom.
-Cliff Dwelling South,   One Queen,  $ 90, Each additional person $40 
-Cliff Dwelling Northwest:  One Queen bed, 2 people
-Cliff Dwelling East:          Two Queen beds, 4 people
*The Main Lodge is currently only used for special events. No rooms are currently available for rent.
Cliff Dwelling Cabins

Blue Sky & Bonanza Cabins

Buckaroo & Wrangler Cabins

Ouray & Chepita Cabins