Chaparral - Kiowa, CO
HAZARD: Due to fire on RWY 11, RWY 11/29 shortened to approx 1800 ft. Landing in burn area not permitted. Cones moved to mark RWY 11 threshold.
While most think of the mountains when they think of Colorado, numerous flying destinations exist off the beaten path on the Eastern Plains. Where the Colorado's mountains give way to the grasslands of the plains is the home of Chaparral Airport. Chaparral began as flying community airstrip back in the 1970's with large acreage lots surrounding the two grass runway areas.  Unfortunately the community never took off as planned, leaving it sitting mostly idle over the years. The current owner bought the airstrip property and it is no longer part of an airpark development. It has sat since that time mainly unused except for the few local pilots that have been granted access along with the couple of homes on-site.
In coordination with the Colorado Pilots Association, Fly Colorado.org, and the gracious contribution of the owner, this private airstrip has recently been offered up to pilots to utilize and enjoy.  Located about 14nm due south of Byers, 28nm East of KAPA, and 22nm SE of KFTG, it is close enough to offer a great training opportunity for off-airport, unimproved airstrip operations.  The landing areas are long enough for a greater margin of safety while still presenting some challenging environment aspects not typically experienced at a normal airport.  Two landing areas are available, one running N/S and another E/W.  Some features include bushes/ trees on approach, a small ledge/drop-off, uphill runway, gentle rolling terrain, gullies that can funnel wind, density altitude, nice views of the Rockies, and the excitement of landing on grass/dirt strip away from civilization.   It is also common to see antelope and other wildlife in/around the airstrip so be alert. The landing areas are in fair condition (check before landing) but not maintained regularly so an additional level of caution is needed.  Scouting the runway surface condition thoroughly before landing is required. Always reference the aircraft flight manual and consult a certified flight instructor for proper technique and if you are unsure of landing at an unmaintained dirt landing field with non-standard obstacles and terrain.
Currently camping is not allowed on the airstrip and please refrain from other intrusive activities such as shooting.  There are two houses in very close proximity to the runway areas so please be a mindful neighbor with your operations and remain on the airstrip land, as adjoining land is privately owned.  Try to keep touch and goes and prop noise to a minimum. Feel free to pack a lunch and enjoy the area but please pack out what you bring in and try to leave the area better than you found it.
Permission is required before landing at Chaparral. Fly Colorado.org makes this easy. Your permission is granted upon completing the electronic liability waiver form in the E-Waiver tab above. The owner is excited for people to utilize this unique airstrip for practice or you next adventure. Enjoy and Fly Safe!
Airport Info:
| | |
| --- | --- |
| FAA ID: | CO18 |
| LAT: | N39-27.83 |
| LONG | W104-15.47 |
| Elevation: | 5930' |
| From City: | 12 mi NE Kiowa |
| Owner: | ORLO ELLISON |
| Phone: | No local contact at field |
| Hours: |  Sunrise - Sunset |
| Parking: | Near windsock and west of 17/35-beware of cactus |
| Camping | Not allowed |
Important Airfield Notes:
-Use Caution for antelope, badgers and rabbits in the area.
-Rwy 11/29: ground hog or rabbit holes observed
-Rwy 17/35 Drainage ditch 30ft east of centerline (about 10' off runway edge), 
-Drainage ditch 30' west of rwy with embedded non-functional runway lights
-Rwy 17/35 Fence parallel 40' east or rwy
-Remain on airport property- private property adjoining- airport property is runway areas
-Two homes near airstrip- be mindful of their property lines, privacy, etc.
-Windsock located at runway 11/29 and 17/35 intersection-oversized.
-Caution: Cactus exists off rwy surface areas
-No facilites (water or restrooms) on field. No camping
-Liability of Release Required before landing
Runway Info
| | |
| --- | --- |
| Runway | 17/35 |
| Length: | 3900' (est) |
| Surface: | Turf / dirt |
| Traffic Pattern: | 17-Right, 35-Left |
| RWY 17 Notes: | Thsld marked by 2 yellow tires, uphill grade |
| RWY 17 Obstacles: | Barbed wire fence 4' tall 30' prior to thsld |
| RWY 35 Notes; | Thsld marked by 3 yellow tires, downhill grade |
| RWY 35 Obstacles | Barbed wire 2-3' tall 20' prior to thsld |
|   |   |
| Runway | 11 / 29 |
| Surface | Turf / dirt |
| Length | 3280 (est) |
| Traffic Pattern | 11-Left, 29-Right |
| RWY 11 Notes: | Thsld marked by 3 yellow tires, uphill |
| RWY 11 Obstacles: | barbed wire fence 2' tall 20' prior to thsld |
| RWY 29 Notes: | Thsld marked by 3 yellow tires, downhill |
| RWY 29 Obstacles: | Fence 40' proir to thsld 4' high |
Note: FAA reported runway length is outdated.
The runways are shorter due to new brush/weed growth.
Parking and Property Boundary Map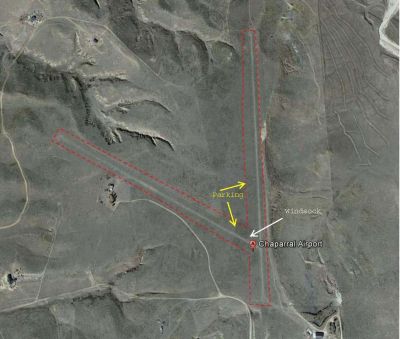 Weather:
Note: There is no AWOS or webcam on the airfield. Windsock is available for wind conditions.
Weather stations at nearby ranches: (not representative of actual conditions at CO18)
Electronic Waiver Form
Instructions & Important Notes: Please carefully read the liability release statement below. The airport owner allows pilots to use the airstrip for recreational use at no charge, but they must do so at their own risk. This is an unmaintained airstrip that requires additional soft and short field skills. Actual airfield conditions may vary from the information given on this website. If the registered aircraft owner is different than the pilot, both parties must complete the form.
Liability Release Agreement
I (the pilot whose information is provided in this electronic form submission) affirm that the statements in the Liability Release are true, are made in good faith, and no information has been withheld or suppressed.
IN CONSIDERATION OF my flight(s), I, the undersigned, agree, intending to be legally bound hereby, that as the pilot of my flight(s) and the landowners on which my flight(s) will takeoff and/or land (collectively, with their respective successors, heirs, assigns and insurance companies, all of the foregoing are hereinafter referred to as the "Released Parties"), shall not be liable for my death or injury to my person, or for any loss for damage to my property, caused in any manner whatsoever, whether attributable to the negligence, intentional act or omission of one or more of the aforesaid Released Parties, or for any other reason, occurring during the time that I am in, entering or alighting from an aircraft piloted by (pilot name provided in form submission). I do hereby, for myself and my heirs and assigns, waive any right of action against the Released Parties from any and all causes or claims that I may have against one or more of the Released Parties from the beginning of time until these presents. I further agree not to sue on any such cause or claim. I fully acknowledge and understand that there are dangers and risks associated with my flight(s) which might result in my injury or death, and I voluntarily desire to participate in, and assume the risks of, my flight(s). I the undersigned, accept liability for all accident/incident-related damages and all liability not covered by the attached insurance policy for flight operations at the property owned by:
Named Parties:
Nebulous, LLC (Owner), ORLO ELLISON (Manager), Fly Colorado, L.L.C. (website)
Airport:
Chaparral Airport (FAA ID: CO18)
Owner Address:
7175 W 16TH AVE
City:
Lakewood
              State:
Colorado
       Zip Code:
80215
*Revokable at any time by property owner